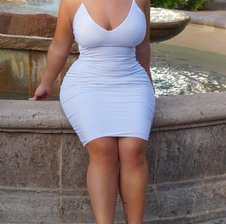 Gabytyara2
Modell rögzítése
Modell eltávolítása
34, Rák
Legutolsó bejelentkezés:
2022.03.06. 0:42:23
Gabytyara2
legfontosabb adatai
| | |
| --- | --- |
| Nem | Nő |
| Szexuális beállítottság | Biszexuális |
| Kor | 34 |
| Magasság | 161 - 170 cm |
| Súly | 55 - 60 kg |
| Hajszín | Barna |
| Szemszín | Barna |
| Nemzetiség | Latino/Spanyol |
| Nyelvek | Spanyol |
| Fanszőrzet | Borotvált |
| Mellbőség | Nagy |
| Popó | Nagy |
I'm so incredibly naughty You wouldn't believe it! Try my curvaceous
body in my private room and don't forget that great opportunities are
never lost - they are just found by somebody else
Mit csinálok a webkamerán
Gabytyara2 Kívánságlistája
1

? Machine engine: the force of the motor is from 0 to 24 W; The length of the race is from 0 to 2.4 in; The speed is from 0 to 180 times / min. This sex toy is designed to provide a bright pair out and provide up to one hundred pushing per minute. ? MultiLocity and Multi-angle: This hair removal machine is equipped with an adjustable speed dial to remote control, you can use the multi-level dial to play with several thrust speeds, from slow and sensual, up fast and dazzling. The suction cup can only suck on a smooth surface. Suitable for many sex toys: The 3.5-inch suction cup adapter can adsorb to many dildos, anal plugs with a suction cup as long as the vintage diameter is less than 3.5 inches. The sex machine can also be connected to the accessories with 3xlr connector. ? Additional Gift Accessories: 3XLR connector accessories are mainly made of PVC / TPE instead of pure silicone, so it is better to use a condom for insertion. Also, you can also use your own dildos now, since you have a sucker adapter. What you get: Basic Sex Machine SinLoli, 1 sucker adapter, 7 multiple accessories, power supply, speed controller, welcome guide, all are in a discreet box. Also, you have our 12-month warranty without worries and friendly customer service. If you have any questions, do not hesitate to contact us, we will respond within 12 hours.
Bővebben